Valentino
Valentino's classic range of fragrances for men and women continue to be successful and a statement of enduring femininity and masculinity.

Valentino is synonymous with opulence, extravagance, and drama. Since 1960, Valentino Garavani's couture label made its mark early with intricately detailed, luxurious gowns and tastefully body-conscious silhouettes. This groundbreaking designer even perfected his own shade of Red, called Valentino Red. In 1968 he introduced the groundbreaking White collection as well as the now-iconic V label, which still endures today. Thanks in part to the entrepreneurial skill of Giancarlo Giammetti, Valentino's longtime business partner, the brand is still the choice amongst European royalty, American socialites, and celebrities. Though his new creations get a great deal of attention, and requests, especially around red-carpet time, his vintage dresses continue to command attention.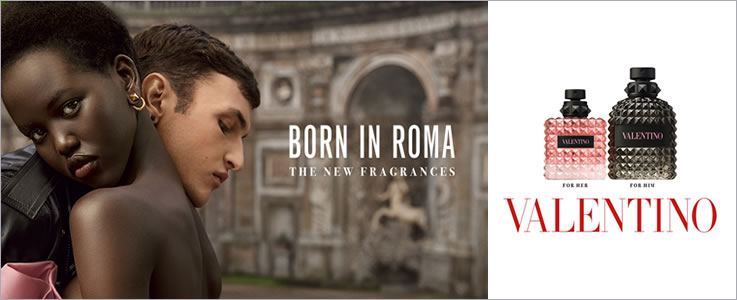 Valentino Vove Viva is a multi-faceted iconic floral oriental perfume inside a strikingly unique package — just like Gaga herself.

Valentino Born in Roma Donna is a perfume that is absolutely born in Roma, where the reverence for the past meets an irreverent attitude for now. A rich Oriental Floral, it is a new modern fragrance with a very sexy twist.

Valentino Born In Roma Uomo shares the beauty of individuality with a fragrance that is resolutely born in Roma, where the reverence for the past meets an irreverent attitude for now. It is a spicy oriental with clean and cool lines of minerals running through it.

Valentino Valentina is composed of intoxicating jasmine is wrapped with sensual notes of white truffle.

Valentino Donna, a hint of elegance, fragility, irreverence, and candor. Sensuous and independent she is capable of sudden passion and unexpected shyness.

For Valentino Uomo, perfumer Olivier Polge imagined a fragrance full of history. A profoundly Italian aromatic blend made of precisely chosen ingredients.