Nina Ricci
Nina Ricci is an established fashion and beauty house with many beautiful creations to its name. Nina Ricci has launched some of the world's most defining fragrances. Nina Ricci L'Air Du Temps is a fragrance that has made million's of hearts stop, with its fresh, floral and traditional blend of light white notes, Nina Ricci became one of the benchmark perfumers that everyone wished to copy. The success of this perfume house continues with new launches that surprise and captivate the perfume market.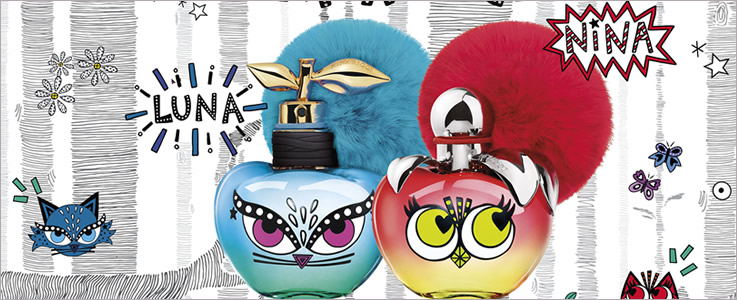 Luna is Nina's best friend, she is a temptress, she is captivating, daring and searching for mystery.

A tangy, vibrant floral created by perfumers Sonia Constant and Louise Turner, Bella is a sexually-charged indulgence with a bold personality.

Experience a fresher interpretation of the iconic Nina fragrance with the Nina Ricci L'Eau Eau Fraiche, the new scent for the modern princess with attitude.

Nina Ricci Nina perfume is a fairytale fragrance. Nina perfume is a mouth-wateringly fruity fragrance that is at once fresh, fruity and floral.

Nina Ricci Nina L'Elixir is a new irresistible love potion by Nina Ricci. Nina Ricci Nina L'Elixir is a sparkling sweet sensual fragrance for a modern girl.

Launched in 1948, L'air Du Temps combines a variety of roses, violets and other classic floral scents to give it a unique bouquet.