Ralph Lauren
Ralph Lauren has been creating fashionable, classic fragrance successes for man and women. His fragrance collection contains some of the most enduring and sophisticated fragrances including Polo, Polo Sport, Ralph and Romance.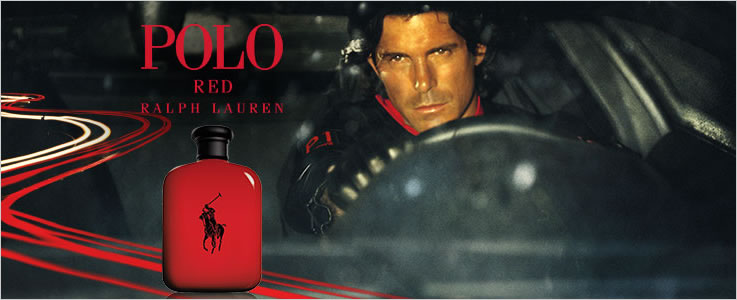 Woman by Ralph Lauren is a sophisticated and feminine scent that reinterprets the iconic tuberose, an elegant white flower, with an alluring blend of rich, vibrant woods.

The Big Pony Fragrance Collection complements this gallant look with a set of four fragrances that represent key passions of young men: Sport, Seduction, Adventure and Style.

All four colorful fragrances are bright, playful and energising, and set upon a floral backdrop, yet each expresses a clear point of view.

Ralph by Ralph Lauren is lively, energetic, colourful and youthful fragrance. It begins with a vibrant top note that comprises of Italian tangerine, Loquat and Osmathus.

The women's fragrance that evokes the timeless essence of falling in love. Discover the sensual essence of velvety woods, extravagant florals and seductive musk.

Polo Red is a fiery blend of spicy red saffron, fresh red grapefruit and deep redwood that ignites the thrill seeker in every man

Ralph Lauren Polo was created in 1978 and is a woody, chypre fragrance for men with a truly masculine feeling.

Polo Black For Men is a sophisticated fragrance is a bold fusion of iced mango, silver armoise and patchouli noir.

Ralph Lauren Polo Blue is a fresh citrus and aromatic fragrance for men.

Ralph Lauren Polo Sport has aclassical mix of light aromatic notes, making it a refreshing and sexy scent.
Featured Products
Ralph Lauren Polo For Men Supreme Oud EDP 125ml£87.00

Polo Supreme Oud is a mesmerizing blend of precious spices, smoky oud and rich woods, creating a rugged, masculine scent.

Ralph Lauren Polo Blue For Men Eau De Parfum 75ml£45.00

Ralph Lauren Polo Blue Eau de Parfum is a new, more intense and elegant version of the classic casual fragrance from Ralph Lauren.

Ralph Lauren Ralph EDT 100ml£56.00 £32.00

Ralph perfume by Ralph Lauren is lively, energetic, colourful and youthful fragrance. It begins with a vibrant top note that comprises of Italian tangerine, Loquat and Osmathus.

Ralph Lauren Polo Black For Men EDT 75ml£43.00

Polo Black For Men is a sophisticated fragrance is a bold fusion of iced mango, silver armoise and patchouli noir.

Ralph Lauren Polo Red Intense EDT 75ml£43.00

Polo Red Intense is an intoxicating blend of red ginger, rich leather, and roasted coffee that ignites the thrill seeker in every man.

Ralph Lauren Polo Ultra Blue EDT 125ml£54.00

Ralph Lauren Polo Ultra Blue has notes of sparkling citrus and salt minerals that captures the crisp, cool feeling of a sea breeze.

Ralph Lauren Big Pony For Women 2 EDT 50ml£42.00

Ralph Lauren The Big Pony For Women 2 is a medley of flirtatious essences. Its floriental character is perfect for a playful woman.

Ralph Lauren Polo Ultra Blue EDT 75ml£43.00

Ralph Lauren Polo Ultra Blue is a fresh sporty fragrance with notes of sparkling citrus and salt minerals that captures the crisp, cool feeling of a sea breeze.

Ralph Lauren Polo Red Extreme EDP 125ml£61.00

Ralph Lauren Polo Red Extreme For Men EDP is a supercharged fragrance that begins with black coffee and warm woods, perfect for any lovers of Thierry Mugler A*Men or Christian Dior Sauvage.

Ralph Lauren Polo Red EDT 75ml£42.00

Polo Red is a fiery blend of spicy red saffron, fresh red grapefruit and deep redwood that ignites the thrill seeker in every man

Ralph Lauren Polo Red EDT 125ml£56.00

Polo Red is a fiery blend of spicy red saffron, fresh red grapefruit and deep redwood that ignites the thrill seeker in every man
Ralph Lauren Sections
Women's Fragrances


Woman


Big Pony For Women


Ralph


Romance
Men's Fragrances


Polo


Polo Red


Polo Black


Polo Blue


Big Pony For Men