Marc Jacobs
Marc Jacobs is an American fashion designer, and the head designer of his own label and currently the Creative Director of the prestigious French design house Louis Vutton. His designs have always stood out from the crowd as visionary, fine garments that adorn the wearer with an elegant and yet fashionable air and in 1987 he was the youngest designer to have ever been awarded the fashion industry's highest tribute, The Council of Fashion Designers of America (CFDA) Perry Ellis Award for New Fashion Talent.

Marc Jacobs fragrances are as wearable, unique and individually crafted as his elegant and distinctive fashion designs and create a understated yet seductive fashion statement that separates the wearer from the crowd.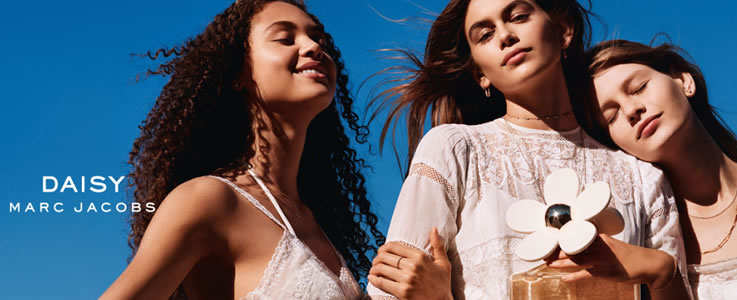 Marc Jacobs Daisy Perfume is a sparkling floral essence that is fresh and feminine, a modern vintage fragrance that embodies effortless charm.

Marc's dream girl, ethereal, innocent and free. Light and airy, Marc Jacobs Daisy Dream Eau De Toilette is both floral and fruity.

Daisy Eau So Fresh is an invitation to discover the designer's whimsical and mischievous inspirations. The scent will transport fans into a joyful, sunny world where happiness and well-being reign.

Marc Jacobs Dot Perfume is elegant, charming and fun, in an equally delightful bottle!

Developed by firmenich, Marc Jacobs Honey Eau de Parfum energises with the freshness of green pear brightened with a splash of fruity punch and juicy mandarin.

Marc Jacobs Oh Lola is a vibrant, flirtatious and light hearted version of the seductive visen that is Marc Jacobs Lola.

Playfully alluring and irresistibly tempting Marc Jacobs Lola Eau De Parfum is sexy with a fun, flirtatious wink.

Bang Bang has a fiercely independent spirit with a dynamic balance of sophistication and charm, for a new and refreshing twist on the original Bang fragrance.

Marc Jacobs Bang For Men is a strong, assertive fragrance for men. Always inventive, never predictable.

A classic, luxurious, and comfortingly feminine fragrance that lays itself onto the skin like the most beautiful of sheer, romantic dresses.

Marc Jacobs For Men was created as his signature fragrance and compliments his stylish, understated, innovative and elegant fashion designs.