Carolina Herrera
Carolina Herrera is a fashioned designer renowned for her unique and seophisticated style. Prior to becoming a fashion designer, she was on the International Best Dressed List for a decade.

Carolina Herrera has had an established, classic fragrance range for a number of years. Her fragrances appeal to a chic and sophisticated audience with their streamlined packaging and confident yet understated tones. Carolina Herrera maintains her strong position in the fragrance market with the sophisticated and traditional Carolina, Carolina Herrera EDP and Carolina Herrera For Men. She has begun to expand her appeal with the recent launches of 212 for Men, 212 for Women and 212 Sexy that are aimed at a younger audience.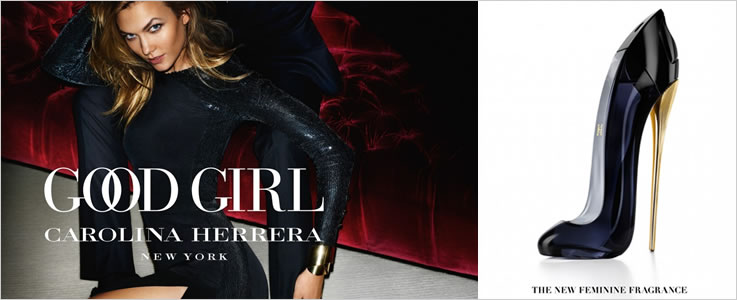 Carolina Herrera Good Girl is a sensual, evocative fragrance born of the beautiful contradictions and the ever-present duality of modern women – and modern life.

Carolina Herrera 212 VIP is the fragrance for the IT Girl. Carolina Herrera 212 VIP is a new twist around the VIP definition and invites you backstage with an exciting urban, exclusive, fun and young perfume.

Carolina Herrera 212 VIP Men reflects the style and attitude of the New York party elite, described as a party animal and nightlife scent, containing notes of gin and vodka.

Carolina Herrera 212 for Women is an aromatic, herbaceous perfume, packed full of green notes and herbs.

Carolina Herrera 212 For Men is a fresh, aromatic fragrance for men that combines aquatic fragrance notes, energetic green accents, citrus tones and warmth of spices and woods.

A fresh oriental aftershave for men. Carolina Herrera 212 Sexy For Men was created for the urban, cosmopolitan and young, a man who knows very well how to use the tools of seduction.

Carolina Herrera 212 Sexy For Women offers the urban and chic 212 woman even more seduction. Carolina Herrera 212 Sexy For Women is an alluring and sensual fragrance, with a naturally carefree style.

Carolina Herrera for Men begins with a fresh, aromatic and wild top note of neroli, lavender, rose and citrus fruit. A traditional essence, for a true gentleman.

Carolina Herrera Classique perfume is designed for women who live every moment, every gesture and every word to the fullest, with sophistication and elegance in its purest expression.