Guerlain Make Up, Skincare and Fine Fragrance Collection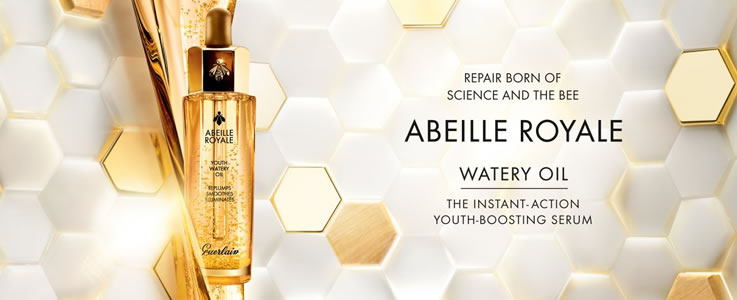 FEATURED PRODUCT Abeille Royale Youth Watery Oil offers the skin all the power of Guerlain-exclusive ingredients: Ouessant Black Bee Honey and exclusive Royal Jelly. Guerlain's formula combines the power of a serum, the richness of an oil and the freshness of a lotion and is designed to deliver smoother, plumper and revitalized skin .... more

NEW Guerlain Mad Eyes Buildable Mascara is the first volume mascara that cares for your lashes, for a look you will get mad about! Day after day, boost the beauty of your eyes. Over and over again .... more

NEW Guerlain Patchouli Ardent is an invitation to a sensorial voyage imagined by Thierry Wasser, a passionate Perfumer and explorer. Dried patchouli leaves radiate a heady, wooded, deeply faceted scent, synonymous with exoticism and extreme refinement .... more
Each Guerlain perfume is created like a symphony of fragrance notes that have a harmonious volume, a lasting effect, personality, clarity and strength. Guerlain's finely crafted and uniquely constructed perfume with ranges including Samsara, Chamade, L'Heure Bleue and Shalimar.

Guerlain is a traditional fragrance house with a reputation of over a 175 years for prestigious fragrances that embelish your world. Each has been finely crafted as a refined and luxurious fragrance that emphasizes the style and elegant nature of the wearer.

Since 1853, Eau de Cologne has been a rite of passage to obtain one's rightful place in the family of the great Guerlain Perfumers, each one reinventing it in his own way. Composed of lively, fresh and light notes, it is always cheerful and extroverted.

Born out of a quest to find the finest raw materials, the Absolus d'Orient collection transports the senses with unique oriental perfumes.

For over 100 years, Guerlain have researched and developed advanced skincare that has pushed back the boundaries of anti-ageing and moisturising skincare with a constantly enhanced range of skincare products that have become the benchmarks for other brands.

Entering the Guerlain universe allows you to pass into an exceptional world where tradition and innovation weave the most beautiful creations. Cosmetic products that feel and look like the ultimate in luxury with a edge of innovation to standards of which you could only expect from Guerlain.

Guerlain Terracotta Collection was created in 1984 with the first compact bronzing powder ever created. This smooth and silky pressed bronzing powder gave skin a luminousity and bronzed look without heaviness and became the must have innovation in makeup.

Guerlain's alchemists have sealed intense colour and luscious lip care into a jewel formula, fashioned in its exceptional case. The 'it-case' gives a fashion twist to the iconic Rouge G.

Guerlain Home Fragrance collection is a beautiful collection of candles and home fragrances created with Guerlain's impecible attention to detail and luxury.

Guerlain's latest creation is the La Petite Robe Noire Collection. Encompassing cosmetics, makeup, fragrances and body indulgences Guerlain La Petite Robe Noire Collection allows every woman to feel stylish and look incredible.

Guerlain have a beautiful heritage and a fantastic reputation for creating the most divine limited edition fragrances, cosmetics and gift sets that are a true treat to receive and give.