Narciso Rodriguez
One of the foremost American designers during the last two decades, Narciso Rodriguez plays a singular role in fashion.

In 1996, Rodriguez received international acclaim when he designed the bias-cut wedding dress that Carolyn Bessette wore for her marriage to John F. Kennedy, Jr. On November 4, 2008, Narciso Rodriguez became part of a monumental event in American history. To celebrate her husband Barack Obama's triumphant victory as the first African American president of The United States, Michelle Obama chose to wear a dress from the designer's Spring 2009 Collection. "It was both emotional and exhilarating," Rodriguez said. "To be part of this memorable moment in history was a great honor." The designer was again honored when the First Lady chose to wear Narciso Rodriguez to her husband's first State of the Union address in 2009 and his last State of the Union address in 2016.

Today, Narciso Rodriguez's fashion house is based in New York City where he shows his women's ready-to-wear collections. His fragrances are an extension of his design ethos, with strong feminine and sensually modern creations.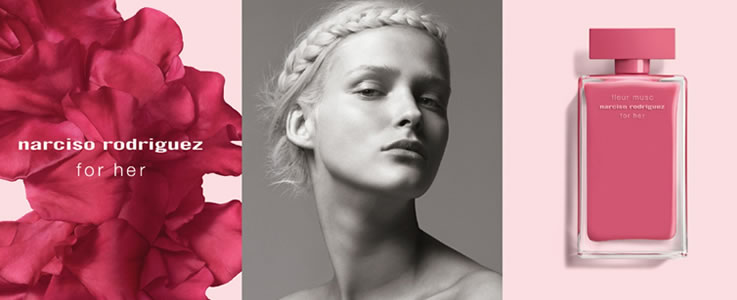 Narciso Rodriguez's first fragrance For Her EDP combines his passion for exotic Egyptian musk with one of his biggest inspirations, women.

Narciso Rodriguez Fleur Musc for Her is the original Narciso For Her signature heart of musc is surrounded by roses, spices, and amber wood, to create a sparkling fragrance.

Narciso Rodriguez Narciso Poudree is the story of sensuality and seduction, with a velvety, powerful and delicate essence the warm and strong Narciso Poudrée.

Narciso Rodriguez Narciso is a delicate and beautiful essence, expressing the elegance of woods when they meet the delicate femininity of a white-flowers bouquet and amber notes of a warm heart of musc.

The Narciso Rodriguez For Him fragrance range is modern, sensual and longlasting. Most of the creations have a rich oriental heart with woods, iris and spices added for interest and modernity.

Narciso Rodriguez Rouge is an intense and yet effervescent Floral and Woody perfume.