New Perfumes and Fragrances
Paco Rabanne Phantom For Men EDT 50ml£56.00 £49.00

Paco Rabanne Phantom For Men is a unique and confident woody aromatic fragrance for men with a unique top note of pineapple leaves. Fueled by feel good energy and it is a futuristic aromatic fragrance born from the clash between luxury craftmanship and new-tech.

MUGLER Alien Goddess Eau de Parfum Refillable 30ml£59.00 £53.00

MUGLER Alien Goddess Eau de Parfum is the new fragrance for women from Thierry Mugler with an innovative blend of solar florals and oriental base tones.

Jean Paul Gaultier Scandal Pour Homme EDT 50ml£57.00 £49.50

Jean Paul Gaultier Scandal for Men EDT is a hard hitting and truly masculine essence. Created as a sensual, energising and extremely addictive fragrance for men Scandal Pour Homme combines aromatic, woody and oriental tones with an unusual caramel accord.

Marc Jacobs Perfect Intense EDP 30ml£60.00 £47.00

Marc Jacobs Perfect Intense perfume is a gorgeous, golden and denser interpretation of the exuberant Perfect perfume by Marc Jacobs with a unique and uplifting daffodil note at its heart.

Lancôme Idole Aura EDP 50ml£78.00 £62.00

Lancome Idole Aura perfume is a floral and woody version of the original Idole perfume for women by Lancome. Lancome Idole Aura is the first sun-kissed floral scent by Lancome, their signature Idole perfume wrapped in solar freshness and woody tones.

Diesel Sound Of The Brave EDT 125ml£69.00 £54.00

Diesel Sound Of The Brave EDT for men is a fresh, exciting and modern fragrance for men combining oriental and aromatic notes for a modern and loud fragrance

Jimmy Choo I Want Choo EDP 60ml£65.00 £54.00

Jimmy Choo I Want Choo is a confident, elegant and effervescent floral, oriental perfume. If you are a fan of feminine perfumes with fruity or floral notes then this will be your new addiction.
Best Selling Women's Perfumes
Calvin Klein Euphoria For Women EDP 50ml£55.00 £34.00

A velvety floral-fruity fragrance, Euphoria is a luminous celebration of the sharpness of pomegranate and apple, the creaminess of lotus and orchid and the sensuality of woods and amber.

Cacharel Anais Anais EDT 100ml£55.00 £33.00

The ultra-feminine Cacharel Anais Anais fragrance blends sweet rose, voluptous lily, creamy amber and powerful sandalwood, whilst a trace of frankincense seals the accord for a sensation of pleasure and intrigue.

Carolina Herrera Good Girl EDP 50ml£80.00 £68.00

Carolina Herrera Good Girl is a sensual, evocative fragrance born of the beautiful contradictions and the ever-present duality of modern women – and modern life.

Viktor & Rolf Flowerbomb EDP 50ml£78.00 £67.00

Viktor & Rolf dreamt of a fragrance for women that had the power to spread a positive message. Viktor & Rolf Flowerbomb presents a profusion of flowers as a weapon to spread the world with beauty and fantasy and to transform the negative into positive.

MUGLER Alien Eau de Parfum Refillable 60ml£79.00 £70.00

MUGLER Alien Eau de Parfum is a new chapter in an extraordinary perfume journey for Thierry Mugler perfumes. Alien perfume reveals a femininity more spectacular than ever, amber, woods and florals, for divine strength.

Givenchy Amarige EDT 30ml£47.50 £34.00

Givenchy Amarige perfume is a symbol of femininity radiating and bursting with happiness. Givenchy Amarige is a strong white floral perfume that centres around a soft and alluring bouquet of yellow and white flowers, for a unique experience.
Best Selling Men's Fragrances
Joop Homme EDT 200ml£79.00 £36.00

Joop! Homme is a very sensual, oriental fragrance with fresh citrus topnotes of mandarin, lemon, bergamot and orange blossom. On its launch Joop Homme was a very innovative fragrance and it continues to be a bestseller.

Lacoste L.12.12 Blanc EDT 175ml£70.00 £39.00

Lacoste L.12.12 Blanc is the pure and serene fragrance in the collection. Blanc begins with cardamom, over clean tuberose and oilbanum and dark and seductive suede.

Paco Rabanne 1 Million Lucky EDT 50ml£49.50 £38.00

Paco Rabanne 1 Million Lucky treats life like a game and 1 Million is Lucky. An enduring essence with richly seductive woody top notes, over addictive hazelnut.

Calvin Klein Obsession For Men EDT 125ml£59.00 £30.00

Fiery. Compelling. Provocative. The pure essence of masculinity. Obsession For Men exudes the determination and fire that drives men's passions, whether in work or romance.

Yves Saint Laurent YSL Jazz EDT 80ml£80.00 £67.00

Yves Saint Laurent had a nostalgia for this night life and a lust for the freedom, joie de vivre, elegant and connoisseur lifestyle that it exuded dedicating YSL Jazz aftershave to it.

Diesel Only The Brave EDT 125ml£62.00 £42.00

Diesel Only The Brave fragrance is more than a name, a manifesto: the claim of the Diesel community. Diesel Only the Brave EDT is the ultimate symbol of masculinity, representing victory, strength and conviction.

Giorgio Armani Acqua Di Gio Profumo EDP 125ml£150.00

Giorgio Armani Acqua Di Gio Promfumo EDP is a deeper, smokier version of the original with intense virility of the Mediterranean Sea, aromatic tones and a key note of Incense. Giorgio Armani Acqua Di Gio Promfumo EDP is a sophisticated and intensely masculine fragrance for men.
NEW Givenchy L'Interdit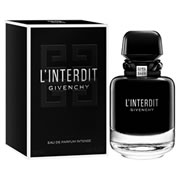 The new fragrance from Givenchy, L'Interdit Eau de Parfum Intense is a floral, spicy perfume with notes of Black Pepper, Tuberose and Madagascan Vanilla.... more
Givenchy Parfums

A luxury French brand of haute couture clothing, accessories and, as Parfums Givenchy, perfumes and cosmetics. Includes Givenchy Gentlemen, Ysatis, Organza, Play and Very Irresistible For Women...
more
Acqua di Parma Fragrances

Acqua Di Parma is a fragrance, grooming and lifestyle brand steeped in history and tradition, which maintains a modern, chic and sophisticated image...
more
Payments By: