Kenzo Amour For Women
Kenzo Amour is a complex fragrance that is again a new type of perfume experience from Kenzo. Kenzo Amour is a beautiful perfume that is at once floral, woody and musky, for a deeply sensuous perfume for women.
Kenzo Amour is a gentle, sensual and joyful perfume, which aims to be an olfactory voyage around Asia, from India to Burma, via Japan and Thailand. This beautiful perfume combines succulent essences of cherry blossom, Thanaka wood and frankincense and has a fresh floral burst of Frangipani and Blossom, over base of exotic rice, white tea and creamy vanilla.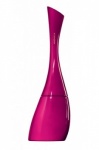 Kenzo Amour EDP 50ml£52.00
Kenzo Amour eau de parfum is inspired by sensations of a journey of love. A colourful bottle with pure curves invites caresses and holds an enveloping musky woody floral eau de parfum.