Claus Porto Aguia Vetyver
Claus Porto Aguia Vetiver is an aromatic blend of vetiver essential oil, with a bouquet of vetiver resin, sandalwood, myrrh and patchouli essences. Claus Porto Vetiver is an active and magnetic herbal aroma that delivers a beautiful spicy accent to any skin and room. Vetiver is said to have aphrodisiac properties, especially to male noses.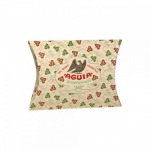 Claus Porto Aguia Vetyver Bath Salts 2 Packs£8.00
An invigorating and detoxifying bath. A sweet pillow box in the original Aguia retro design, houses a sachet of gently fragrances bath salts - the perfect gift add on or special personal treat.