Guerlains First Plumping Lip Balm Hits the UK.
20 August 2015 | Admin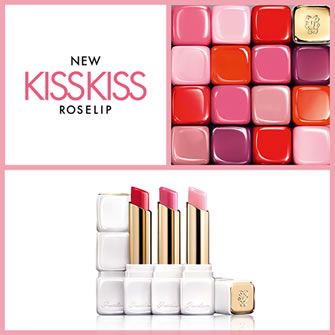 Guerlain have just launched their first plumping and moisturising lip balm.
Not only are these lip balms super hydrating and plumping but they have a beautiful, delicate rose fragrance donated by rose oil extract.

Did you realise that Guerlain was one of the first cosmetic houses to create a lip balm in 1830? Called Baume de la Ferté it was lightly tinted with wine tannins to give a natural glow. The Guerlain Kiss Kiss Rose Lip Balms build on this heritage and take it to a new level, offering a beautiful selection of rose coloured hues and a super plumping effect.

Guerlain Kiss Kiss Rose Lip Balms come in versatile and ultra-feminine shades inspired by the natural beauty of the rose. Unlike some competitors lip balms we found that the Guerlain Kiss Kiss Rose Lip Balm was not as creamy in texture and didnt feel sticky under a lipstick. We also really liked the fact that there was a subtle glossy tint and all of the colours showed up on everyones lips, even someone with lips that are naturally dark plum.
If you love Dior Addict Lip Glow, you must try these!