amika Hair Masks
13 January 2022 | Admin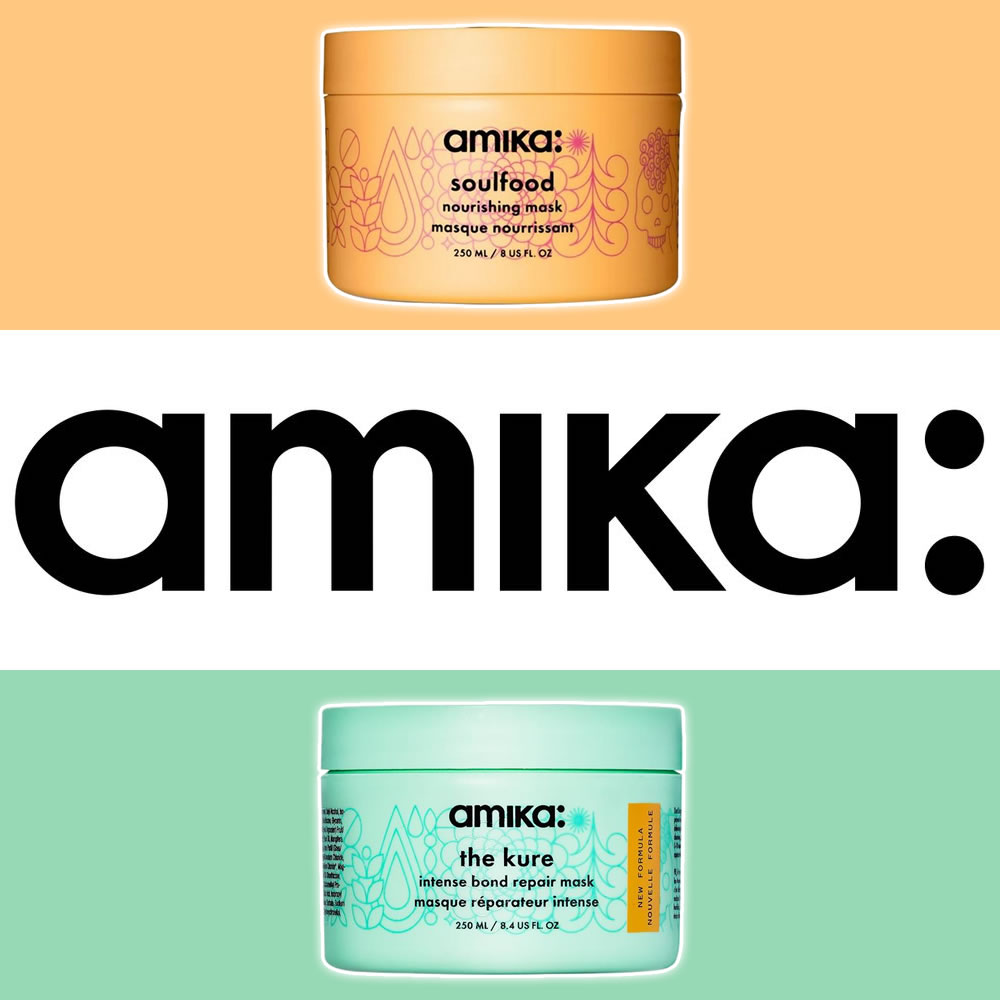 Facemasks are often a stable item in our skincare routine, we all have a favourite to treat that tricky spot, dry or dull skin. Facemasks are part of our pampering routine, sleepovers are an excuse to slather our faces with brightly hued facemasks that promise clear, radiant and rejuvenated skin. As a result, facemasks are synonymous with self-care and relaxation. (My personal favourite is Thalgo Hyaluronic Mask 50ml for it's ability to leave my skin plump, clear and glowing)
Despite the prevalence of facemasks, hair masks are still a bit of a mystery, their powers rarely sort.
Let us break it down for you.
Hair masks are deep conditioners. Hair masks are to your limp, tired tresses what a deep-tissue massage is to your weary muscles. Essentially, hair masks are a super charged conditioner, a prescriptive hair treatment. They aim to will extra moisture and address any specific needs you have, giving you a different approach to fighting the fight against poor hair health and hair that needs repair, moisture or hydration.
One misconception about hair masks is that they are too heavy for oily hair – this is false. The dry ends of your strands actually contribute to the cycle of oil production and masks (applied mid through ends) will help bring better balance to your overall scalp and hair health, for beautiful tresses.
Hair Masks are a weekly luxury that will penetrate your hair cuticle to repair, restore, and revitalize your hair all while you do nothing. Once you've applied the mask to your locks – from roots to ends – your job is done and the mask gets to work in while your relax. Remember, hair masks are suitable for all hair types, you don't have to worry about it weighing down your fine hair. The key is to apply it to your mid-length and ends where your hair has been with you the longest vs. your roots.
Curious as to how we mask? Keep on reading for our step-by-step guide below:
Apply amika Soulfood Nourishing Mask hair masks from where it departs your scalp to the ends, paying special attention to the really dry bits.

Enhance your shower ritual by lighting some candles and play your relaxing playlist.

Turn on your shower and make sure the water is your perfect temperature before getting in.

Grab Normcore Signature Shampoo for your collection of products and allow the suds to form on your scalp as you leisurely wash your hair.
Rinse and follow with a generous helping of Normcore Signature Conditioner from mid-length to ends.
Not quite sure which amika Hair Mask is for you? Here is a quick guide:
| | |
| --- | --- |
| | amika Soulfood Nourishing Mask is a great starting point and our bestseller, a universal mask for all hair types that need an extra dose of hydration and nutrients. It's rich and moisturizing formula never weighs down hair and leaves your mane manageable and soft for days. |
| | amika The Kure Bond Repair Hair Mask is your perfect partner if your hair is coarse, dry and damaged. This ultra-moisturizing hair mask is packed with bond cure technology, mango and shea butter, borage oil, and sea buckthorn. It's clinically proven after one use to result in hair that is 3.2x stronger, 8x more conditioned, with 69% less breakage and the rich formula significantly hydrates parched strands for your healthiest-looking mane ever. |
| | amika Bust Your Brass Intense Hair Repair Mask is your best friend if you have grey, silver or blonde hair. Packed with bond cure technology, plant butters, vegan proteins, and ultra-violet pigments, this salon service in a jar delivers your brightest and strongest blonde yet. The repairing mask is also clinically proven to result in healthier hair that is 8x more conditioned, 2.2x stronger, with 56% less breakage in amika's clinical trials. |
| | amika Flash Instant Shine Mask is for people who want a little extra shine as it delivers brilliant shine and intense softness in just 60 seconds at the end of your shower. This finishing touch turns all hair types from dull to dazzling. |
| | amika The Kure Multi-Task Repair Treatment is for fine and damaged hair. This bespoke, salon quality treatment is perfect for those that struggle with damaged strands. This is a concentrated daily hair serum that strengthens your mane and repairs damage in 60 seconds, clinically proven to result in hair that is 2.4x stronger* with 74% more repair*, and 58% less breakage in amika's clinical trials. |