Yves Saint Laurent YSL M7
YSL M7 is an intensely masculine, elegant and deeply sensual and provocative oriental and woody aftershave for men. YSL M7 was created as the emblem of today's YSL man it is intense and fascinating, with a raw virility and sensuality that make him as desirable as he is dangerous.
YSL M7 draws its intensity and sensuality from a unique olfactory approach, combining refined, noble ingredients with raw plants. The warm heart of M7 comes from a wood so precious that in its purest form, it is said to be more costly than gold, agarwood. Used in an exceptionally high concentration in M7, Agarwood combines with Haitian Vetyver for the warm, intense trail that is the scent's signature.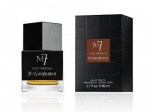 Yves Saint Laurent YSL M7 EDT 80ml£57.00
Resolutely contemporary, M7 has been enhanced with brilliant mineral freshness, revealing the full richness of expression of the oud accord.