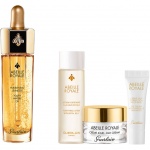 Guerlain Abeille Royale Discovery Skincare Set£46.00
Includes Guerlain Abeille Royale Youth Watery Oil 15ml, Guerlain Abeille Royale Day Cream (Normal/Dry Skin) 7ml, Guerlain Abeille Royale Up-Lifting Eye Cream 3ml and Guerlain Abeille Royale Fortifying Lotion 15ml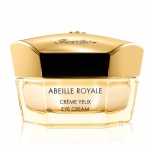 Guerlain Abeille Royale Eye Cream 15ml£74.00
Guerlain Abeille Royale Eye Cream is a complete eye care cream, providing uplifting eye care, anti-dark circle protection and anti-puffiness complex.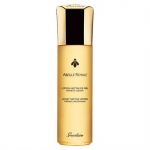 Guerlain Abeille Royale Fortifying Lotion 150ml£55.00
Guerlain Abeille Royale Honey Nectar Lotion is the first Guerlain active lotion to be born from the exceptional repairing power of bee products.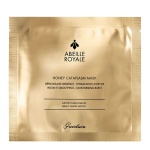 Guerlain Abeille Royale Honey Cataplasm Mask 1 Pack 4 Masks£84.00
Guerlain Honey Cataplasm Mask Abeille Royale is the latest-generation cataplasm mask; it adheres to the skin ideally and moulds itself to the facial contours to instantly smooth and diminish wrinkles and fine lines. The skin is left radiant and feeling plumper.