Calvin Klein CK Everyone EDT 100ml£42.00 £34.00
CK Everyone is a unisex fragrance that is modern and forward thinking. Ck Everyone celebrates the infinite freedom of self-expression but expression that does not cost the earth. It is the first CK fragrance to be vegan, with organic orafornge oil and housed in a recyclable glass bottle.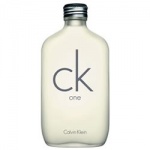 Calvin Klein CK One EDT 200ml£59.00 £35.00
CK One has light and refreshing tones of bergamot, lemon and mandarin. These are layered over jasmine, violet, rose, nutmeg and amber. CK One is a sensual, refreshing fragrance, perfect for everyday use.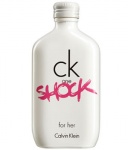 Calvin Klein CK One Shock For Her EDT 200ml£59.00 £24.50
Turn heads and steal hearts with CK Shock for Her, a rebellious scent for her with surprising and evocative notes. A fruity floral with a shocking difference!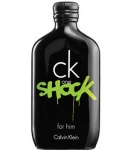 Calvin Klein CK One Shock For Him EDT 200ml£29.95
CK One Shock For Him begins with sparkling clementine, purple lavender and cucumber, over a base of osmanthus, black pepper, cardamom, chocolat and tobacco for an edgy, sexy and impulsive signature.