Lacoste
Lacoste have just re-launched their fragrance brand, to much acclaim. Each Lacoste fragrance is fresh and sexy with a modern edge. Choose from light, fragrant blends and sweeter vanilla or wood based fragrances for both men and women.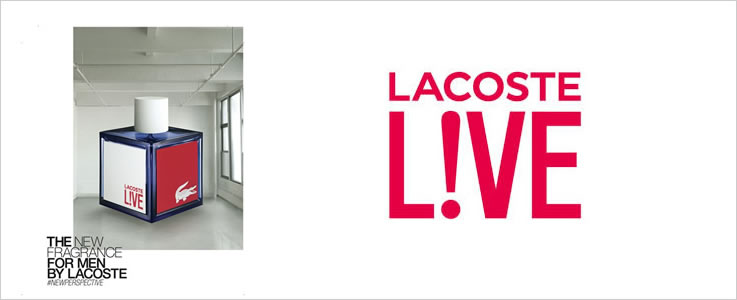 Lacoste Live EDT reinvents the traditional codes of Lacoste, mixing sporty heritage and French elegance with a fresh, colourful edge.

Lacoste L.12.12 Collection is a new an innovative collection of fragrances where the iconic Lacoste Poloshirts are remixed into a fragrance collection.

Lacoste Challenge is a dynamic and energetic aftershave designed to inspire men to embrace the life's challenges with confidence, flair and enthusiasm.

Eau de Lacoste, the spirit of Lacoste in a feminine fragrance that captures the simple sensuality of delicate flowers and pure white cotton on skin.

An elegant, sensual fragrance that captures the natural intensity of soft floral notes on a relaxed, warm evening. The spirit of Lacoste, playfully and sensually transformed into a bottle.

Lacoste Touch of Pink perfume has a floral heart with essences of Violet and Jasmine; these are layered over a base of blood orange, sandalwood, vanilla and musk.

Lacoste Essential for men aftershave begins as a lively, fresh and woody fragrance that is invigorating and energetic blend of green notes, such as black currant, grapefruit, lime and tomato leaves.

Lacoste Essential Sport is a new energetic and refreshing fragrance experience from Lacoste. Lacoste Essential Sport has an invigorating edge driven by ice cold citrus and spices, powered by smooth masculine notes.

Lacoste Homme aftershave is mature, stylish, sophisticated and masculine. Combines light lemon notes with a hint of tobacco and black pepper and woody spices.

Lacoste Style in Play aftershave is an enigmatic and energetic fragrance for men. Lacoste Style in Play aftershave begins with a fresh and lively juice, tamed by frosty green notes.