Giorgio Armani
The Giorgio Armani look is as sophisticated as the man himself, with clean and sleek lines, and an emphasis upon the sensuous curvature of the body. Giorgio Armani fragrances complement these design ideals.
Giorgio Armani has created a luxurious line of wearable, unusual perfumes for women and aftershaves for men. Each one is finely crafted with the simple but rich Italian Chic that the famous fashion designer has become renown for. Choose from soft and sensual fragrances or light, fresh marine, fruity orientals and powdery floral perfumes for women. For men, Armani has created a strong but elegant range of male fragrances, with aromatic aftershaves, marine textured fragrances and fresh aquatic fragrances.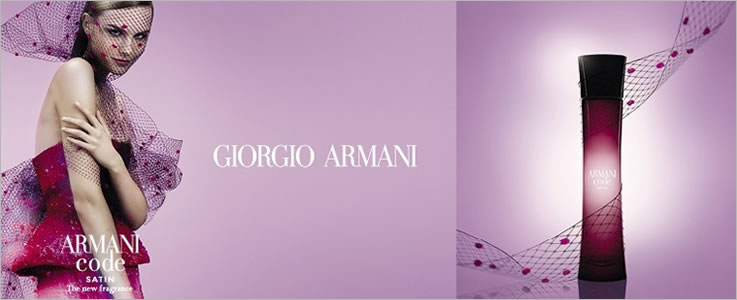 Si is Giorgio Armani's tribute to modern femininity, an irresistible combination of grace, strength and independent spirit.

Giorgio Armani Code For Women is an unforgettable fragrance that exudes a mysterious charm.

Giorgio Armani introduces Armani Code Satin into the Code Collection for women. Armani Code Satin is an opulent and sweet interpretation of the classic Armani Code for Women.

Giorgio Armani Code Luna perfume combines vanilla-infused orange blossom, the essence of a celestial seductress.

Refined, sophisticated and seductive, Giorgio Armani Code For Men is the epitome of style with a timeless edge.

Giorgio Armani Eau Pour Homme is the original essence of Italian elegance and masculinity. Giorgio Armani Eau Pour Homme presents a refined and classic style.

Giorgio Armani Acqua Di Gio For Men is a fresh, marine fragrance that instantly transports you to a Mediterranean Beach in summer.

Profumo by Giorgio Armani is the depth and intensity of the Mediterranean Sea. It is sophisticated and intensely masculine.

Giorgio Armani Acqua Di Gio Essenza Eau De Parfum reinvents the aquatic spirit of the original scent, with a deeper, woodier character that asserts a sense of ultimate masculinity.

Emporio Armani Diamonds for Men is an icy fragrance that is contrasted with sensual, warm accents.

Giorgio Armani Diamonds For Women is a fragrance that truly reflects the sparkle, strength and brilliance of the Emporio Armani woman.

Armani Diamonds Rose Eau De Toilette is light and fresh. Inspired by the unforgettable scent of morning roses and the pure brilliance of pink diamonds.

Emporio Armani She is a soft, ultra-feminine fragrance captures the innate beauty of all women.

A distinctly stylish fragrance, the signature scent of the urban male, a refined, casual and compact aftershave with a twist of dynamism in its surprising notes.

Embodies the spirit of the Armani Woman in full bloom. Giorgio Armani Mania For Women is an understated fragrance with touches of refinement and decadence.

Giorgio Armani Mania For Men is a magnetic fragrance that blends the strength of cedar and vetiver with the intense sensuality of musk and amber.