TIGI
Tigi is the haircare range by hairdressers for hairdressers. Tigi offer a comprehensive portfolio of products to meet the needs of every type of hair and personality. Tigi Bed Head is for the young and fearless, with an anything goes hair styling attutude. Tigi Catwalk for a sophisticated person living a fasion savvy lifestyle. Tigi S Factor is for those inspired by celebrity hair styles, smototh, shiuny and glamorous. Or Tigi Hair Reborn for the most discerning client who desires the ultimate in luxurious hair care performance. With Tigi haircare you can gain the recognition you want for the craft, artistry and dedication that you put into your hairstyle.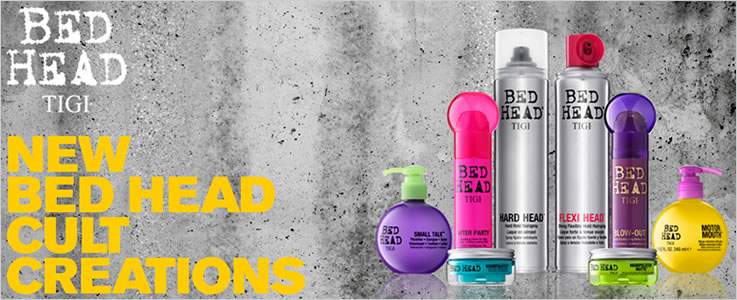 TIGI Bed Head Foxy Curls Extreme Curl Mousse 250ml£12.00

Extreme Curl Mousse. Bring out your inner foxy with this curl activating mega-mousse. Curls have more fun!

TIGI Bed Head Masterpiece Hairspray 340ml£12.00

Massive Shine Hairspray. Turn your hair into a work of art that lasts all day! Massive shine, serious hold. Voila!

TIGI Bed Head Small Talk 200ml£12.00

3-in-1 Thickifier, Energiser, Styliser. Thickifier adds body and volume. Energiser gives life to limp hair. Styliser defines, separates and controls.

TIGI Bed Head Styleshots Epic Volume Shampoo 250ml£11.95

Get hair bursting with bounce and fullness. Sulfate-free shampoo with a volume boosting shot explodes your style, taking it to new heights.

TIGI Bed Head Joyride Texturizing Powder Balm 58ml£11.85

Introducing the world's first powder primer balm for hair. It creates the perfect base layer for any style and helps keep it that way.

TIGI Bed Head Hard Head Hairspray 385ml£11.00

Hard Hold Hairspray. Relentless hold and control – dries instantly! The more you use the harder it gets.

Tigi Bed Head Dumb Blonde Toning Protection Spray 125ml£10.50

TIGI Bed Head Dumb Blonde Toning Protection Spray with protein booster technology.

TIGI Bed Head Rockaholic Dirty Secret Dry Shampoo 300ml£10.00

The secret is you don't have to shampoo everyday! Spray at roots to absorb excess oils, make hair smell fresh and keep it rockin' one more night. This stuff is so funktabulous!

Tigi Bed Head Dumb Blonde Reconstructor for Chemically Treated Hair 200ml£9.75

Transform over-processed and chemically treated hair. This moisturising reconstructor uses Protein Booster Technology to help restore the hair at its core

TIGI Bed Head Manipulator 57ml£9.00

Be a master manipulator. Get whacked-out hair spike, twist dreads or go punky. More mainstream? Get body and texture.

TIGI Bed Head Foxy Curls Contour Cream 200ml£6.95

Control your curls and fight the frizz. Defines, shapes and supports style. Encourages soft, manageable curls and eliminates frizz.