REN
REN Skincare is a unique skincare regime that uses the soothing and potent capabilities of powerful plant bio actives. Developed as a real alternative to preservative and chemical laden designer skincare and mass-market products, REN skincare is a natural beauty choice.

At REN they believe in beautiful, healthy skin. That is why they pioneered the concept of Clean Bio Active Skincare, skincare products that are formulated with cutting edge, clinically proven RENs philosophy is summarised in their 5 principles - Right Ingredients, Right Science, Right Product Experience, Right Environmental Impact and Right Attitude.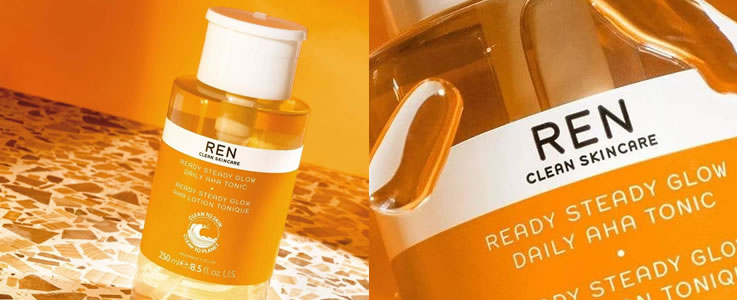 REN Ready Steady Glow Daily AHA Tonic Seven skin benefits, one 100% recycled plastic bottle. This cult-status tonic exfoliates, brightens, tightens and hydrates for a smooth, even and energised complexion that's all glow without the irritation.... more
REN Cleansers and REN skincare washes are designed to completely remove impurities from the skin, without drying, stressing or irritating even the most sensitive of skin types.

REN Moisturisers are formulated using the most advanced natural skincare solutions available.

Designed repair the skin, restore radiance and help reduce the appearance and formation of fine lines and wrinkles.

REN's anti-ageing and instant lifting ranges incorporate the latest bio active technology and work together to provide a full circle of the skin's anti-ageing needs.

This range of products can smooth fine lines and wrinkles and condition the treatment area to a renewed and beautiful radiance.

REN Face Masks are a real treat for the skin and can instantly transform the skin and mind.

A range of gentle yet effective cleansers based on a unique 100% natural Rose Extract Complex that tones, softens and soothes your skin while cleansing.

RENís transformative Radiance Range is specifically formulated to reveal a renewed, revitalized and radiant complexion.

RENís best selling Evercalm range avoids detrimental skincare ingredients and protects against environmental aggression/pollution.

The ideal solution for combination skin is a range that carefully balances the skin.

Formulated to effectively treat problem skin leaving it clear and healthy while avoiding tightness, discomfort and redness.

The Vita Mineral and V-Cense ranges are focused on hydrating, nourishing and replenishing the skin, whilst V-Cense provides the first steps in Anti Ageing care.

Moroccan Rose Otto range captures the fleeting beauty of the rose and is just one of those things that makes life a little sweeter and the world a slightly nicer place to be.

Featuring Kelp, Magnesium and Algae, REN are bringing the power of the sea to your shower.

REN Bath and Shower Collection avoid sulfates and use only mild cleansing agents from oats, corn and sugarcane that are effective yet gentle on the skin.

REN Body Creams are formulated using the most natural approach and advanced natural skincare technology.

REN Body Scrubs & Balms is formulated using the most natural approach and advanced natural skincare technology.

REN Hand Care Collection is formulated using the most advanced natural skincare technology, with only 100% natural active ingredients.

REN Gift Sets contain a selection of REN's best sellers in beautiful gift packages. REN Gift sets make great gifts for someone special.

REN's shaving oil and aftershave moisturiser have been formulated to give a smooth, easy shave and minimise post-shave dryness and irritation.