REN Hand Care
REN Hand Care Collection is formulated using the most advanced natural skincare technology, with only 100% natural active ingredients. From soft soothing and antibacterial hand washes, to hand creams these products are designed to help the skin achieve its perfect balance, particularly when used together. The skin friendly cleansing and moisturising ingredients will leave your skin glowing, fresh and perfectly moisturised.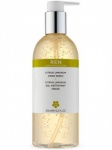 REN Citrus Limonum Hand Wash 300ml£15.00
A sulfate-free hand wash formulated with Organic Sicilian Lemon Oil known for its antibacterial properties and its fresh, uplifting fragrance.