Moschino Uomo for Men
Moschino Uomo For Men is an aromatic and masculine fragrance by Moschino. Moschino Uomo For Men begins with an interestingly aromatic top note of cyclamen, cinnamon and sage, over a fresh and yet virile sparkling middle note of coriander seeds, kumquat and rosewood and lively yet soft endnotes of cedar wood, amber and musk.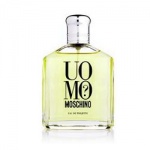 Uomo EDT by Moschino 75ml£32.00
A scent made for every man. Moschino Uomo Eau De Toilette was created to reawaken the modern man's sense of smell. Your senses will be taken on a journey of discovery that will astound and astonish.