Cartier L'Envol
The sheer power of L'Envol de Cartier fragrance for men is the ability to reveal new sensations, never before experienced. The nectar is imbued with a tang of lignum vitae and notes of honey, brought out by a wispy haze of musk. This vibrant potion helps send your senses into flight.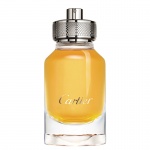 Cartier L'Envol Eau de Parfum Spray 50ml£57.00
Cartier L'Envol de Cartier reveals the pioneer inside each and every one of us. An elixir which stirs up the mind, stimulates passion, lights the unknown.