Colonia Joins the Club
Tuesday, 1 September 2015 | Admin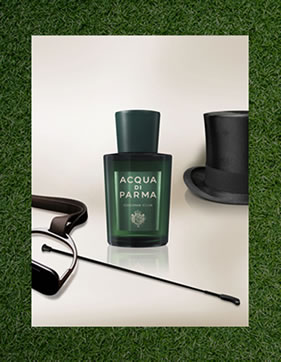 Acqua di Parma are a classic brand, creators of one of the most iconic fragrances ever, Colonia. For Autumn Winter 2015 Acqua di Parma have decided to launch a new version of this classic, Colonia Club, a fragrance that is decadent, fresh and essentially elegant.

Created as a homage to the discipline, sophistication and refined art of dressage and the Corinthian concept of "the club", this beautiful fragrance is both masculine and timeless.
Created by renowned perfumerer Francois Demachy, who also created the classic Eau Sauvage by Christian Dior, Colonia Club is traditional to Acqua di Parmas strong cirtusy heritage but it also has a interesting minty and woody twist.
Colonia Club is a rich, masculine fragrance with woody notes reminiscent of the club-house itself, with Haitian vetiver and a powerful, yet refreshing mint and neroli oil added for a virile and elegant texture.

Acqua di Parma Colonia Club is an essential for any Acqua di Parma fan and will also appeal to those who like Dior Homme Parfum, Tom Ford Tuscan Vetiver and Creed Virigin Island Water.